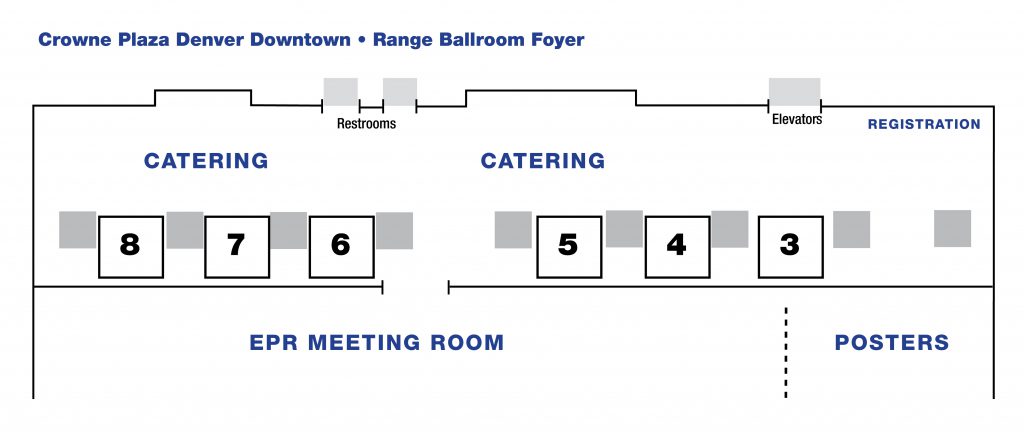 EXHIBIT SPACE COST • $1,300 per 6′ x 10′ space (60 square feet)
EXHIBIT SPACE PAYMENT:
50% non-refundable deposit due upon booking
Full balance due on or before May 21, 2019
Cancellations after May 21, 2019 are non-refundable
EXHIBIT SPACE COST INCLUDES:
Draped space (8′ high back drape, 3′ high side drape)
One 6′ skirted table
Two side chairs
Company name sign
Listing in Conference Program
Two conference registrations at reduced price of $200/registration
Exhibitor badges for booth personnel
Shared wireless internet connectivity
General security
* The entire exhibit area is carpeted
** Standard electrical power is available throughout perimeter wall outlets. If you need electrical power it is recommended to bring an extension cord.
EXHIBITION HOURS & DATES
Move-In
Sunday, July 21 – 1:00 pm – 6:00 pm
Display Hours
Monday, July 22 – 9:00 am – 7:00 pm
Tuesday, July 23 – 9:00 am – 4:00 pm
Move-Out


Tu

esday, July 23 – 4:00 pm – 6:00 pm
"TAKE-ONE" TABLE • $300
Can't make it to the event but want to get your literature in front of this qualified audience? You can have your literature distributed at the "Take One" Table area. Show Management will distribute and replenish your literature in this specially designated area at the exhibition.
Exhibition company is responsible for shipment arrangements of literature both to and from exhibition facility.
"Take-One" Table area is to be unstaffed.
No exhibitors or corporate representatives will be allowed in this designated area.